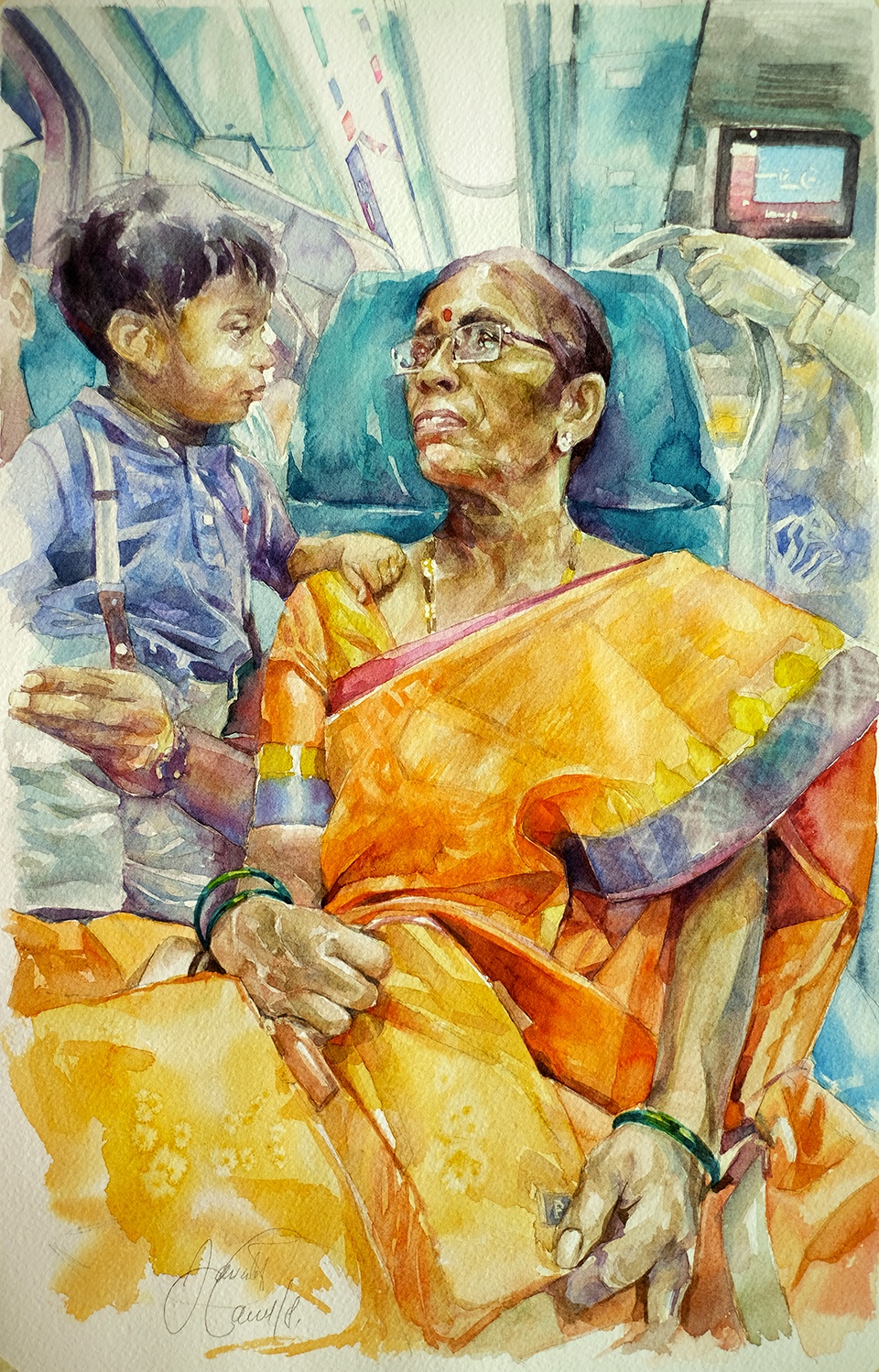 'Art' of Women Empowerment and Gender Parity
Women in Leadership (WIL) Economic Forum will bring together artworks from a diverse group of artists (men and women) in a collective exhibition dedicated to promoting a gender-balanced world
Women in Leadership (WIL) Economic Forum will provide a platform to a group of local artists to showcase their works in a collective art exhibition dedicated to promoting a gender-balanced world. The 2-day show will run parallel to the conference at the Address Sky View Hotel Dubai on 28 and 29 October and is being supported by 2XL Furniture & Home Décor and Art4You Gallery.
Jesno Jackson, Art4you Gallery Founder and Curator said, "When it comes to art, it is still very much a man's world. We are proud to be part of the WIL Economic Forum. In the UAE one can discover and connect with diverse cultures and people. Each one having a different and unique voice. When we explore and engage with different cultures and gender through art, we learn something not only about the artist but also about ourselves. 11 artists from 10 nationalities have captured the need for women empowerment and gender parity connecting to this year's theme of WIL Economic Forum – 'Dare to build a better future'.
Amit Yadav, Head of Marketing, 2XL Furniture & Home Décor, said, "We are proud to partner with the WIL Economic Forum that will allow us to place 2XL's unique products at this exclusive platform as well as showcase diversity of expressions through this beautiful art exhibition. At 2XL we are committed to building a gender-balanced organization. Diversity, inclusion and empowerment of women are at the heart of our business strategy and it is wonderful to see the growing role of women in the region."
Emirati artist Ahmed Rukni Al Awadhi said, "Emirati women have been one of the cornerstones of the nation's development since it was founded in 1971. I would like to celebrate and pay tribute to the legacy of 'the man who was instrumental to women's education and empowerment' by showcasing my work 'Remembering Sheikh Zayed: The man who built the UAE'".
Egyptian artist Yasmine Mohamed has named her painting 'Empowerment'. Elaborating on the idea behind her work, she said, "Empowerment of women is absolutely critical for a balanced socio-economic development. Social, cultural and family pressures on women are often the reasons behind gender inequality. Such pressures lower down the career ambitions of women."
Peter Farrington from Canada wishes to convey the idea behind changing energies with his work 'The Winds of Change'. He said, "The energies on the planet are shifting. Raising our level of consciousness, helping us to connect with our divine feminine energies. Embracing and uplifting these energies to the same level an in balance with our masculine energies is essential for a balanced and prosperous future on the planet for all life. The 'dare' then is to make way for and allow for this energy."
Talking about the inspiration behind her painting 'Floral', Lebanese artist Nada Al Barazi said, "Just like flowers, strong women convey a sense of admiration. My objective is to show the beauty of nature by using vibrant colours and grow it instead of destroying it. I'm part of nature and nature is part of me that's why I show my love to it an most of my artworks."
Indian artist Shobha Iyer wants to convey a bold message through her painting 'Fearless'. She stressed, "My painting is all about a fearless woman. Don't hesitate to chase after the things that set your soul on fire. She who dares wins!"
Lindi Badenhorst who has recently moved to the UAE, is participating in the show with her work 'Growing with the Flow'. Speaking about the inspiration behind it she said, "Having moved to the UAE in December 2018 I have learnt so much about myself as an independent woman thrown into the deep end of starting of a new life, leaving my job security and all support systems behind in South Africa. On this new adventure I have learnt about unity and support amongst the women living here. My work is an exploration of the relationship between different hues of blue and the composed layers gathering in an ocean of new adventures and cultures. It represents depth, expansiveness, imagination and change. What starts out as a yearning for a new self- expression in art, soon becomes a festival of powerful layers and intensities. The colour-scapes are constructed in an intuitive manner. Initial subtle layers of colour lead to responses that develop by adding layer upon layer to create depth and textural delight. My work is driven by my perception of emotions, moods, and inspirational moments in my everyday life.
List of Participating Artists at the WIL Economic Forum:
Jesno Jackson from India
Ahmed Rukni Al Awadhi from the UAE
Nevine Meguid from Australia
Nada Al Barazi from Lebanon
Yasmine Mohamed from Egypt
Shobha Iyer from India
Lindi Badenhorst from South Africa
Shabnam Habib from Pakistan
Sanja Jankovic from Servia
Nadeem Yaqoob Albeloushi from Iran
Peter Farrington from Canada
Women in Leadership (WIL) Economic Forum by Naseba, the largest female economic empowerment platform in the Middle East will gather some of the leading regional and international organisations such as Siemens, Facebook, Allergan, FedEx, Philip Morris, PWC, General Motors and Emaar Hospitality, to share their success stories on gender parity and inclusion. The forum will take place in Dubai on October 28 and 29 at the Address Sky View Hotel Dubai and is supported by Chain Reaction and CCM as well as 2XL Furniture & Home Décor that will be creating inspiring stage settings for engaging discussions.
About Naseba
Naseba creates growth opportunities, connecting people, partners and ideas. Focused on deal facilitation, it helps clients raise capital, close sales, enter new markets, secure partners and educate workforces. Naseba creates opportunity and adds economic value at every stage of our client's journey.
Since 2002, Naseba has facilitated more than a billion dollars' worth of deals and has connected over 100,000 global executives through more than 1,000 proprietary business platforms in liquid growth markets.
Naseba is a signatory of the Women's Empowerment Principles – Equality Means Business, produced and disseminated by the United Nations Entity for Gender Equality and the Empowerment of Women (UN Women) and the United Nations Global Compact.
For media contact:
Hina Bakht
Managing Director
EVOPS Marketing & PR
Mob: 00971 50 6975146
Tel: 00971 4 566 7355
Hina.bakht@evopsmarketing.com
www.evops-pr.com