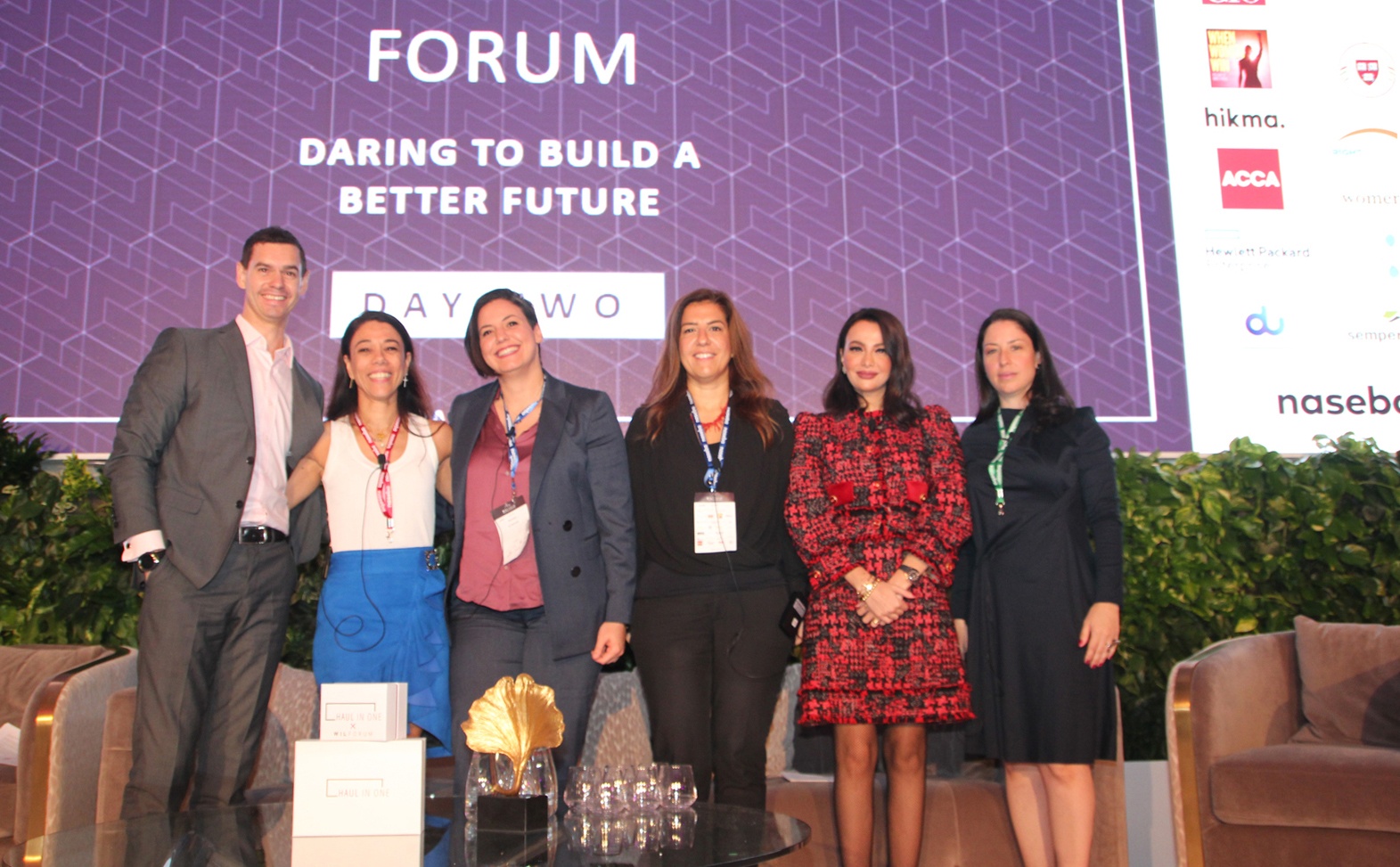 Narrowing Gender Gap in STEM Can Contribute to Economic Growth in the Middle East
Some of the leading regional and international companies shared insights on how they are unlocking female potential in STEM roles at the Women in Leadership Economic Forum (WIL) by Naseba,
taking place in Dubai on October 28 and 29 
Is technology widening the gender gap? Why aren't there more women in Science, Technology, Engineering and Math (STEM)? What's holding women back? Is it because majority of women believe that technology is a male industry or there is a gender bias in the recruitment process?
Women in Leadership Economic Forum (WIL) by Naseba, the largest female economic empowerment platform in the Middle East seeked answers to these questions and more from some of the leading regional and international organisations such as Siemens, Facebook, Allergan, FedEx, Philip Morris, PWC, General Motors Africa and Middle East and Emaar Hospitality as they get together to share their strategy and initiatives on bridging the gender gap in tech roles in the region.
While more women in the Middle East are pushing the boundaries to acquire STEM skills, the gender gap continues in STEM occupations. To boost economic growth corporations and other stakeholders are focusing on increasing women's participation in high-productivity sectors such as technology.
Despite a global STEM skills shortage, women in the Middle East earn more science degrees on a percentage basis than women in the United States. In Saudi Arabia alone, women earn half of all science degrees. In engineering, 44.5 per cent of university students in the UAE are female; Kuwait sees 69.9 per cent female enrolment in engineering, whereas Oman has 46.7 per cent and Bahrain 44 per cent. These numbers would lead you to believe that there is no shortage of female representation in STEM professions today. But for various reasons, these same women are not putting their degrees to paid use for very long across the region.
Hani Ashkar, PwC Middle East Senior Partner, said, "This falls on each of us to create equal opportunities for female professionals across all industries. Organisations can provide this by openly discussing and raising awareness of both conscious and unconscious bias, ensuring the right tone is set at the top. In the Middle East, we need to create more attractive and inclusive working environments, especially in science and technology, allowing women to reach their full potential."
Many established companies are making bold commitments to hire a more balanced workforce.
According to Siemens, Engineering and technology companies are struggling to achieve gender parity because of the limited number of females in the talent pool for STEM jobs. Siemens aims to increase female hires by making job descriptions gender neutral and running a recruitment process that is free of unconscious bias.
The company is using AI to analyze job descriptions in real time, highlight if they are particularly masculine or feminine, and predict how people will react and suggest alternatives. In order to create a bias-free hiring process, Siemens is also using game-based assessment to evaluate candidates for its graduate programs. This helps match people to careers through a combination of neuroscience, gamification and AI, and has led to more women making it to the shortlist and joining the company.
"We need courageous women to take ownership to drive their careers in STEM, and Siemens is ready to help them. I am ready to help them," Eva Mourino, SVP HR Siemens Middle East, said. "I'm an engineer myself and work in the male-dominated technology industry. Changing the status quo has added excitement to my career; it's a challenge and a battle to win. Come join us!"
Eleni Kitra, Regional Head of Automotive & Financial Services from Facebook commented: "Diversity is key driver to our success as a company. People from all backgrounds use Facebook to connect with others, and we will better serve their needs through a diverse and inclusive workforce. Facebook has also grown the number of women and underrepresented groups in leadership positions across the organization and our women in Tech roles have grown by 53% in the last 5 years."
But how will companies achieve gender parity in technology when there are simply more qualified male candidates in the sector?
Judith Trujillo, Human Resources Director, GM Africa and Middle East, said, "At GM, we know that true movement in diversity won't just be in our walls, but across our industry and through the next generation of leaders. Focusing on raising female candidates in STEM fields, we recently worked alongside the ThinkScience Festival, an annual competition and showcase across the Emirates, to offer mentoring sessions to STEM-driven university students."
The world needs more women in technology and the reasons are clear. There is a growing body of evidence that a more diverse workforce holds number of benefits for businesses, in particular, and the economy in general.
"The business benefits of a more diverse, gender-balanced organization are well-known and understood: greater diversity unlocks creativity, leads to better problem-solving and drives innovation, which in turn generates growth. So, if the tech industry and companies who are increasingly becoming more technology-minded are to achieve imaginative, creative ideas, this requires different types of people from many different backgrounds – including women", said Melissa Whiting, Vice President Inclusion & Diversity at Philip Morris International (PMI).
Elaborating on the need for role models in tech, Melissa continued, "There is nothing inherent in our gender which means that women and girls have less of a tendency to be interested in, or an ability to excel in, the STEM fields. What we need is more visibility of women who break through the glass ceiling in tech, and more men in positions of power to advocate for them. If young women see positive role models of other women working in tech, they're much more likely to view it as a viable option and hopefully, this will encourage and inspire future generations of women to pursue technology-related jobs. Initiatives like 'Girls in Tech' and 'Girls Who Code' are starting to reach more young women in tech and hopefully with time, we'll close the gender gap in this and many other fields."
WIL Economic Forum by Naseba was supported by Emaar Hospitality, Chain Reaction, Allergan, FedEx, Facebook, General Motors, Siemens, PWC, Philip Morris, 2XL Furniture & Home Décor, Arabnet, Dubai Chamber, ACCA, Womena, Ellevate, Harvard Club of the UAE, She is Arab, When Women Win, CIO, The Tempest, Straight Street Media, WOW World of Cinema, French Business Council, CCM Consultancy, Thrive Global, Right Selection, Simply Healthy, Hikma, Hewlett Packard Enterprise, Acer, Du, The Talent Enterprise, IE, Haul In One, Stagecraft and Semper Green.
About Naseba
Naseba creates growth opportunities, connecting people, partners and ideas. Focused on deal facilitation, it helps clients raise capital, close sales, enter new markets, secure partners and educate workforces. Naseba creates opportunity and adds economic value at every stage of our client's journey.
Since 2002, Naseba has facilitated more than a billion dollars' worth of deals and has connected over 100,000 global executives through more than 1,000 proprietary business platforms in liquid growth markets.
Naseba is a signatory of the Women's Empowerment Principles – Equality Means Business, produced and disseminated by the United Nations Entity for Gender Equality and the Empowerment of Women (UN Women) and the United Nations Global Compact.
For media contact:
Hina Bakht
Managing Director
EVOPS Marketing & PR
Mob: 00971 50 6975146
Tel: 00971 4 566 7355
Hina.bakht@evopsmarketing.com
www.evops-pr.com