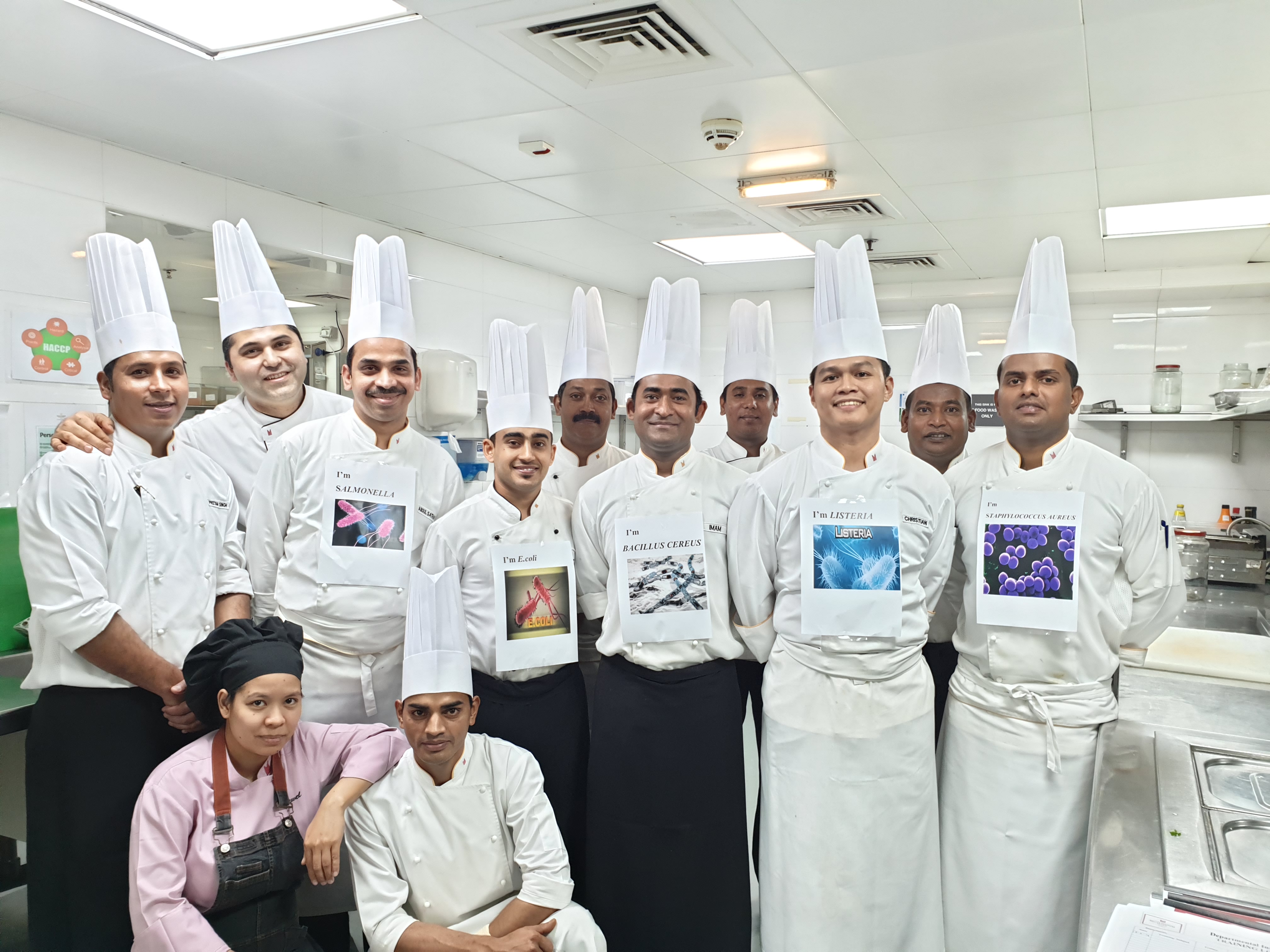 Millennium Plaza Hotel Organises Food Safety Week as Part of the World Food Safety Day
Millennium Plaza Dubai recently hosted the Food Safety Week as part of the World Food Safety Day for its culinary team to raise awareness about the necessary measures required to ensure effective kitchen hygiene practices.
Mr. Fadi Ammache, General Manager of Millennium Plaza Dubai, said, "Food safety is of primary significance for us and is everyone's responsibility. Organisations are often familiar with the standards and best practices to ensure food safety, however, risks often come from the behaviours and actions of those responsible for following the practices and standards. Our goal is to ensure all our people are well trained and that the food our guests consume is of the highest quality, safe, healthy and nutritious. Food Safety Week is an annual event at our hotel organised to promote adequate hygiene management at every step of the culinary process. At the Millennium Plaza Dubai we are fully compliant with the foodsafety regulations and it is mandatory for our team to undergo regular food safety training for full understanding of possible risks to prevent any such mishaps."
As part of the exciting Food Safety Week activities, each day at the hotel was celebrated as a Bacterium Day ranging from Salmonella Day, E.coliDay, Bacillus Cereus Day, Listeria Day and Staphylococcus Aureus Day.
Elaborating on the activities, Ms. Lavanya Nidunapu, Hygiene Manager of Millennium Plaza Dubai stated, "As we believe that learning through fun is far more effective, each chef acted as a bacterium connected to their section to create awareness among their colleagues in the department. For example, Butchery Chef from Poultry acted as Salmonella, Cold Kitchen Chef acted as Listeria and so on. In addition, everyday a food safetyquestion was posted on our internal facebook page leaving the platform open for our non-food handlers' colleagues to get engaged, also to encourage the food safety culture amongst our teams a hand-wash competition was conducted to identify and award best practitioners. To wrap up the week-long activities and to check the food safety knowledge of our team we floated a best practice handout with the statement 'I am a Gem not a Germ'.
Millennium Plaza Dubai is a luxurious 5-star enjoying an unrivalled location in the heart of the emirate facing Dubai International Financial Centre. Within a few minutes' drive from the hotel are Dubai International Convention and Exhibition Centre, Dubai Mall and the World Trade Centre. Direct access to Emirates Towers Metro Station makes travelling within Dubai extremely convenient. The 65-storey tower offers a choice of 401 spacious guest rooms with stunning views overlooking Zabeel Palace and Jumeirah Beach. Included in its facilities are superb business and leisure venues including 11 modern meeting rooms, state-of-the-art business centre, health club and spa, Sky Lounge, and an infinity swimming pool and children's pool with views of the Arabian Sea.
For hotel marketing contact:
Dina Chammas
Marketing & Admin Executive
Millennium Plaza Dubai
Mob: 00971 50 431 1307
Tel: 00971 4 387 7148
dina.chammas@millenniumhotels.com
www.millenniumhotels.com
For media contact:
Hina Bakht
Managing Director
EVOPS Marketing & PR
Mob: 00971 50 6975146
Tel: 00971 4 566 7355
Hina.bakht@evopsmarketing.com
www.evops-pr.com
Millennium Hotels and Resorts, Middle East and Africa
Millennium Hotels and Resorts is a dynamic, global hotel company, which owns, asset manages and operates over 130 hotels worldwide. With almost 40,000 rooms and a portfolio of brands; including Biltmore, Grand Millennium, Millennium, Millennium Place, M Hotel, Copthorne, Kingsgate, Millennium Executive Apartments and Studio M, that serve different market segments, representing quality and value in every class.
Currently operating 35 hotels in the Middle East and Africa, the Group has an extensive expansion strategy in place, with 40 hotels in the pipeline. Each property in the region is unique, catering to the varying tastes and needs of the international business and leisure traveller but with a consistent promise to provide a first-class service and a rewarding experience for guests. Millennium Hotels and Resorts is committed to differentiating itself by embracing the true spirit of diverse traditions, with a sincere respect to historical heritage and local culture.
With the motto "More than Meets the Eye", Millennium & Copthorne is committed to a customer-centric philosophy and complete guest satisfaction. For more information, please visit www.millenniumhotels.com