Get Ready to Celebrate Nowruz with 2XL Furniture & Home Décor
Nowruz, the Persian New Year, marks the beginning of spring and will be celebrated by Iranians worldwide on 21 March 2019. Like other major festivals it is an occasion when celebrants decorate their homes as well as set up the traditional 'Haftseen' table that symbolises hope, health and happiness. The festive set-up is as special as the food and 2XL Furniture & Home Décor offers a fabulous range of decorative items to inspire the most luxurious and creative arrangements.
Amit Yadav, Head of Marketing at 2XL, commented, "At 2XL we cater to a wide mix of clientele and therefore it is essential for us to meet their requirements all year round. For Nowruz, customers will find in our stores a variety of carefully curated exquisite accessories and decorative items to accentuate the festive décor. Whether buyers are looking for a gift or something to jazz up their homes, we have the most desirable products that are bound to add a unique touch to their celebrations."
Here's what is on offer at 2XL Furniture & Home Décor: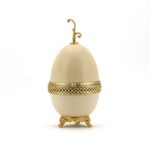 A perfect fit for the 'Haftseen' table
Product Description: Egg-shaped ivory box
Material: Porcelain with bronze
Price: AED 339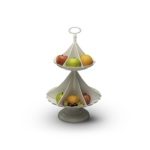 Simple and elegant multi-purpose holder.
Product Description: Two-layered metal holder in white and cream apt for table setting
Material: Iron
Price: AED 123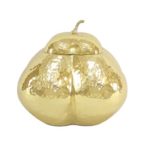 A great giveaway!
Product Description: Golden box with lid
Material: Brass polish lacquered
Price: AED 344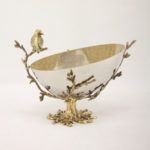 Check out this ornamental bowl to enhance your 'Haftseen' décor.
Product Description: Steel bowl antique brass
Material: Brass
Price: AED 501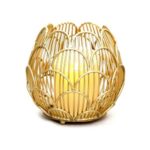 Set the festive scene with this beautiful candle holder.
Product Description: Deco candle holder in mat gold
Material: Iron
Price: AED 134

For media contact:
Hina Bakht
Managing Director
EVOPS Marketing & PR
Mob: 00971 50 6975146
Tel: 00971 4 566 7355
Hina.bakht@evopsmarketing.com
www.evops-pr.com
About 2XL Furniture & Home Décor
UAE based 2XL Furniture & Home Décor is a retailer of luxury home furnishings since 2000.
The retailer currently has 9 showrooms across Abu Dhabi, Dubai, Sharjah, Fujairah and Al Ain. The 2XL product range includes exclusive bedroom, living and dining room furniture as well as exquisitely crafted décor items, unique gifting ideas, plush rugs and gorgeous wall art, divine bed and bath linen, eye-catching tableware, and a fun, functional kitchenware range.
The 2XL range is very classic and French-inspired. Each retail item has been carefully chosen exclusively for 2XL and denotes a lifestyle that is regal, sophisticated and of a finer taste. We have something to suit every home setting – from ornate gold-plated bedroom settings to the more subdued Parisian hues of shabby chic, quirky contemporary inspirations to more ethnic Eastern-inspired décor ideas.
For more information or to shop online please visit www.2xlme.com
Connect and tag us on @2xlfurniture
#2XLfurniture